As the air turns cooler and leaves drop from the trees, it's important to keep a few important fall safety tips in mind. With proper precautions and safety awareness, your family can enjoy that crisp autumn weather while avoiding some of the dangers that come with the season.
Fall Fire Safety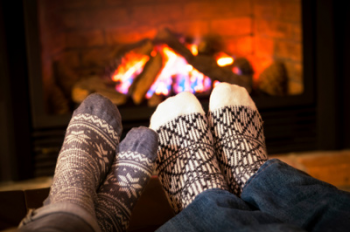 As the temperatures begin to drop and the weather turns cooler, many spend more time at home using fireplaces, furnaces, and heaters to keep warm. Whether warming up inside or out, nothing is quite as cozy and relaxing as enjoying the fireplace or firepit.  Open flames present some serious safety hazards, especially in drought areas, so before lighting your first fall fire, please keep these fire safety tips in mind:
Service Your Furnace.  Before firing up the furnace, be sure to call your heating and cooling company to schedule seasonal service. A specialist should inspect the furnace to ensure everything is in working order and that there are no leaks.

Fireplace Safety.  Never leave a burning fire unattended and make sure the fire is completely out before going to bed.  Using a fireplace screen can also help keep sparks from flying out.

Use Caution with Space Heaters.  While space heaters are great for warming up a cool room, they are responsible for numerous house fires so be sure to read the instructions on the unit before you use it. If your space heater requires venting, make sure you have vented it to the outdoors, and allow at least a three-foot perimeter between the space heater and other objects.  Also, never use your stove or oven to heat your home.

Use Caution with Candles.  Candles are a great way to give a room that warm, cozy glow, but they also pose fire hazards.  Never leave candles burning unattended and always be sure they are positioned away from kids and pets.

Change Smoke Alarm Batteries.  When you turn back your clocks for Daylight Saving Time, be sure to change the batteries in your smoke alarms and carbon monoxide detectors.  This is a great time to also check the alarms with the new batteries installed and check/replace any home fire extinguishers that have expired.
Fall Driving Safety
There's nothing more beautiful than a fall drive, but this season brings some unique hazards for drivers. Being aware of these potential dangers can help keep you and your family safe and prevent accidents.
Be Aware of Poor Visibility.  Several factors can impact your visibility while on the roads.  Falling leaves, fog, rain, and sunsets can all obscure your vision while driving.  Furthermore, shorter days mean the roads get darker earlier, making it more difficult to see children playing and people walking, running, or riding bikes.   Be aware of limitations in your visibility and slow down if you can't see well. Use your dimmed headlights in bad weather with decreased visibility. If possible, try not to be on the roads when it's hard to see.

Keep an Eye Out for Children and Pets.  Children love to play in piles of leaves, so use extra caution where leaves are piled at curbside. In addition, the school bus will be making its rounds now that school is back in session. When driving through neighborhoods, watch for children at play and obey all traffic laws when traveling through town.

Slow Down in the Rain.  When driving in the rain, keep a safe distance from the car in front of you as wet roads can make it more difficult to stop. Use caution when wet leaves are on roadways too as they may make the pavement more slippery and/or prevent you from maintaining good traction.

Be Prepared for Bright Sunlight.  The sun rises later this time of year, presenting visibility challenges for drivers.  Be sure to keep a pair of sunglasses in the car so they are easily accessible if the sun is too bright or you encounter a glare.  If your visibility becomes too impaired, pull over.
Watch out for ice.  As the temperatures drop further at night, a driver will need to spend some extra time in the morning scraping frost off his or her vehicle. Shady spots on the roadway may be home to black ice, which a driver may not be aware of until his or her car starts to skid on it.
Fall Home Maintenance Safety
Fall is the time for yard clean-ups, home repairs, and prepping for the cooler months ahead.  Here are some safety tips to keep in mind as you work.
Use Caution on Ladders. Ladders account for a number of at home falls.  When using a ladder, be sure to position it on a flat surface, balance safely against a sturdy brace, and wear appropriate footwear.  When possible, have someone 'spot' you and assist by handing you the tools or items you may need.

Use Caution Working in the Yard.  Before working in your yard, be sure to identify all utility lines, including power and water.  This is especially important to do before trimming trees and digging.  Also be sure to use proper technique when moving the lawn, pulling weeds, and completing other work.  Drink plenty of water and be sure to dress appropriately for both the work and the weather.

Clean Up Fallen Leaves.  Wet leaves can create a hazard for pedestrians and drivers alike, as they make sidewalks, driveways, and roads slippery. Be sure to keep your walkways and driveway free of fallen leaves and use caution when walking or driving on them.
By keeping these important fall safety tips in mind, you can safely enjoy the beauty of the upcoming season!